"You probably won't find a better deal for miles and miles…"
Voted one of the 10 best courses in Lincolnshire in 2011. Why not come to South Kyme and enjoy our hospitality and some great golf? Don't forget to check out our Visitors page for more information. To find us go to the Contact Us page for a map and directions.
Ladies
The Ladies of South Kyme Golf Club would like to offer you a warm welcome to our club, whether you are new to the game or whether you are an experienced golfer;  we hope you will join our friendly group to enjoy the fun, laughter and the wonderful game of golf!
Ladies Day is a Tuesday.  We have a great mix of events, such as Medal and Stableford Qualifiers, Knock-outs and various Cups and Trophy Competitions available to enter; if you just want a friendly non-competitive game,  we play those too. We also run Medal Qualifiers and Competitions at the week-end,  giving Ladies who are not able to play on a Tuesday the opportunity to enter Qualifiers There is a full calendar of matches, both League and Friendly, home and away matches, giving ample opportunity to experience match play against other clubs   Details of matches/competitions are displayed in the Locker Room with a pen close at hand for players sign up for all the golf.  We also run a Ladies Open Am-Am in early September, which is well attended and is open to all players with a handicap. Thursdays see an informal Ladies roll-up 'just-for-pleasure' golf.
Still room for yet more golf?  There are more opportunities to enter Club Competitions, details of these are to be found on the Club Fixture List where there are other opportunities to enter, either as a single, a pair or a mixed gender.
The Lady Captain's Charity this year is the Butterfly Hospice based in Boston, who provide care for the terminally ill.  The Hospice would like to have additional facilities in order to provide care to additional patients and the results of our fundraising efforts will be put to good use.
South Kyme is a great Golf Club with a very friendly atmosphere – we would love to welcome you on board!
Best wishes
Myra Le Sage
Lady Captain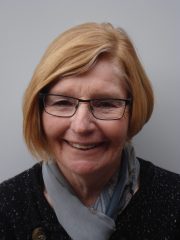 Lady Captain 2018, Myra Le Sage
About Us…
Lady Vice Captain:  

Paula Young

Secretary: 

Jane Barlow

Treasurer:  

Elizabeth Jude

Competition Secretary:

Sue Roberts

Handicap Secretary/County Delegate:

Sue Annibal

Bar/Catering Rep:  

Helen Kirschner

Committee Member:  

Shirley Westlake

Committee Member:  

Sue Duncan